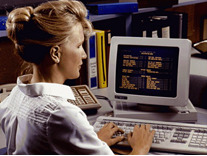 The process of Medical Coding and Billing requires attention to fine detail, fast processing and adherence to regulations and procedures. If any of the process is not adhered to, the result is either rejection of claim or worst case the denial of coverage. We at Professional Medical Management (PMM) are certified professional coders who's sole business is to process your claims quickly and accurately.

Many Physicians utilize their in-house staff to perform the Coding. This requires:

Hiring trained billing professionals who have the expertise in the area
Maintaining their level of Training and Compliance
Paying the employee's Taxes and Benefits
Relying on their ability to grasp all the nuances of each insurance carrier
And if they fail, what recourse do you have?......None
Professional Medical Management resolves the headaches of the medical billing process by providing quality medical billing as well as coding services for you. This frees Physicians to do what they do best…practice medicine and care for their patients. We handle the time-to-claims and insurance processing of the practice. Our team has the skills and training required for fast and accurate processing. All of our coders are Certified Professional Coders and members of the American Academy of Professional Coders. We are highly trained in Medical Technology, and all aspects of Coding such as proper use of modifiers, CPT, ICD and HCPCS Codes. Whether your Billing/Coding need is for the Professional component, Technical Component, OBS or ASC, we will manage your complete billing operation. From Coverage Verifications to Pre-Certifications, from Pre-Determinations to Coding, and from claims submission through claims processing, Professional Medical Management is there for you…Remember, we don't get paid unless you get paid.

We pride ourselves in providing our clients with a high quality of personalized service. We are available for you 24/7.

We provide:

Error Free Electronic and Paper Claims Processing
Fast and Accurate Payments
Insurance Verification - prior to services being rendered
Pre-determination letters processed by us, containing your office notes
Pre-Certification of Services prior to services being provided
Appeal and Review of all Partially or non-Paid Claims
Physicians have 24/7 Access to all Patient Information and Claims Status
With our state of the art software we enable your office to have hands on information at all times. Our system allows for your accounts receivables to be designed to meet CPA specific needs. Our service in individualized to your needs in order to provide your practice the efficiency needed to achieve increased revenue.

So contact us to find out more about our service.

Professional Medical Management 718-672-2824 info@promedicalmgmt.com

Associations:

American Academy of Professional Coders
American Medical Billing Association
Healthcare Billing & Management Association